I'll admit my ignorance. Before I heard of the Flamberge I hadn't ever heard of a fossa before. Turns out, that's a slender, cat-like mammal that hails from Madagascar with an exceptionally long penis comparative to its size. And knotted, if this absolute beast of a dildo is any indication.
Founded in 2018, Ambush Toys hails from Denver and has burst onto the scene to provide a robust collection of artfully crafted animal inspired dildos. Their toys are made from body-safe platinum silicone, which is non-porous (easy to clean, does not harbor bacteria). They feature multiple sizes of each beautifully sculpted toys, so that beginners and experienced holes alike can sample their wares.
On the topic of the Flamberge, they write,
"we spared no detail to bring this design to light. Featuring a combination of knots and barbs, the Flamberge is only for the bravest of warriors."

— Ambush Toys
Indeed, this toy features two huge knots and each knot is speckled with a delicious array of little barbs.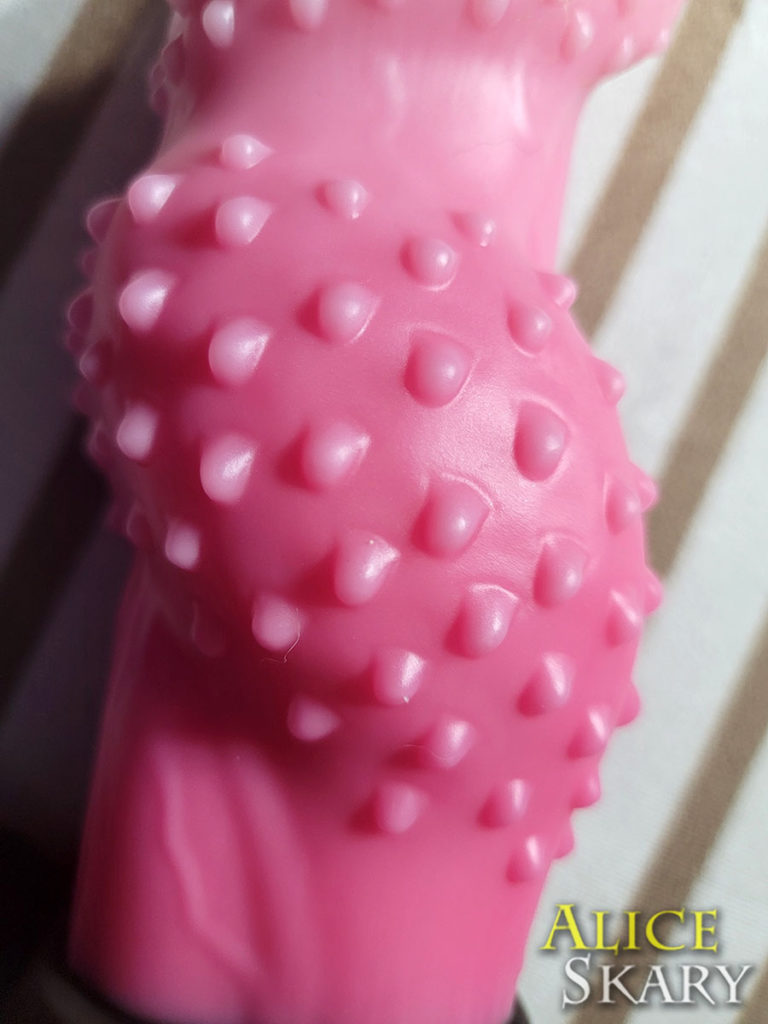 In my contact with Ambush Toys, I was immediately impressed by their customer service. They answered questions quickly and responsively and were incredibly polite and knowledgeable. They have an excellent professional back end (heh heh) of their website, allowing you to track your orders and see when they will be made, shipped, and arrive.
Of course, I asked for the Flamberge in the large size.
It hails an impressive 10.3" usable inches and is without any pocks, holes or flaws. It has a flared head, and a slight indent urethra. The shaft features many smooth bulging veins. The testicles feature flecks of sculpted hair for texture to meet you on the way down.
This toy is truly intense in a strap on harness! A generous length to allow long strokes, and a very intimidating presentation for those that love to anticipate a challenge from the very first visuals.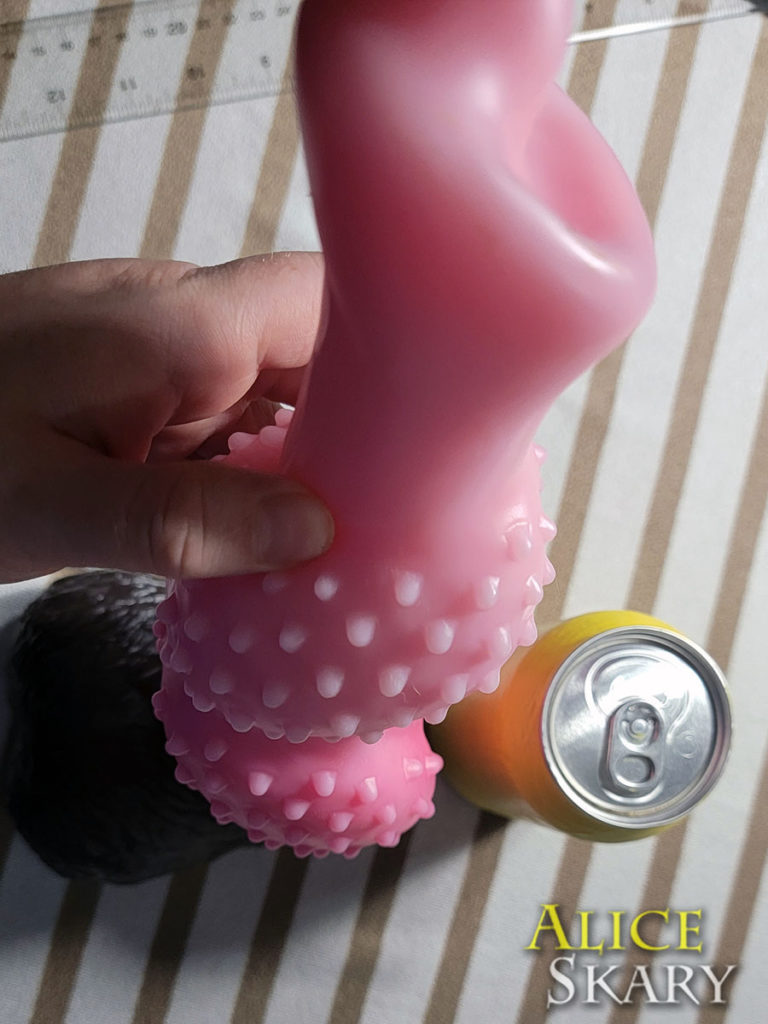 We found that the double knots were more challenging to take than a single knot, but also double the pleasure for those who adore the feeling of the knot. The second knot is just a bit larger than the first one, making it an increasing challenge as you go.
"Knot necessarily for beginners, but skillfully crafted to slide its way into your hearts & your holes"

— an experienced Furry friend of mine
The flared head also requires a very accommodating playmate with a relaxed hole, and lends itself more readily to vaginal play than anal. Still, if a well trained asshole can take the wide flare, that is a good sign for smooth play ahead riding over the two generously portioned knots.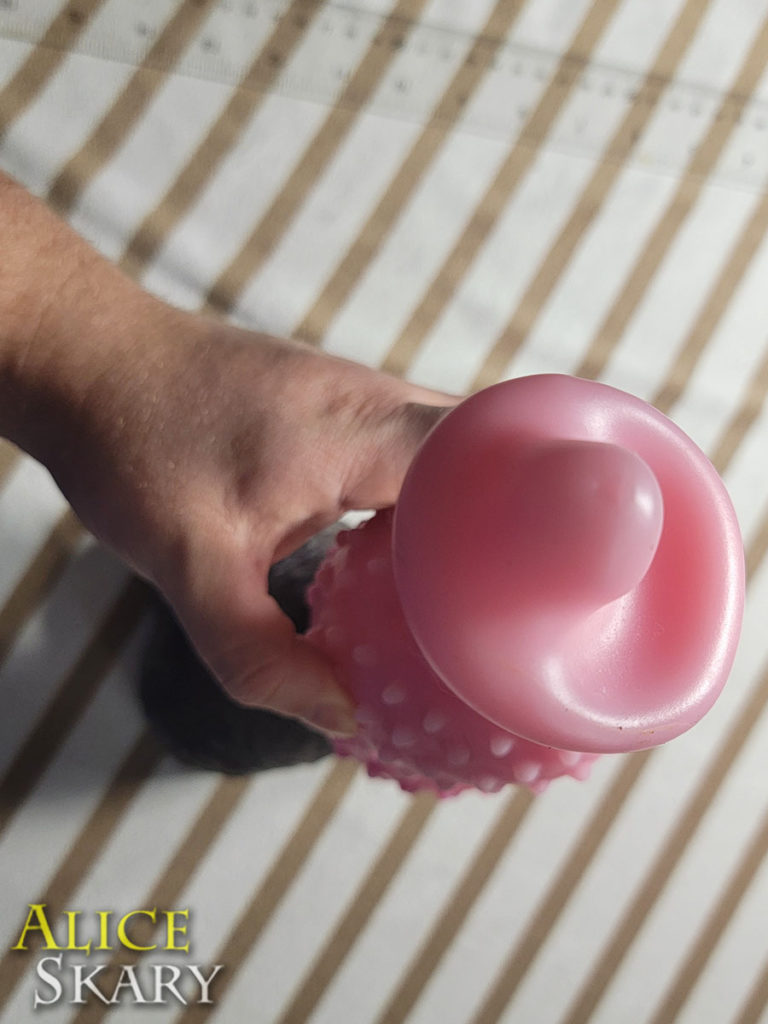 The "spikes" on the knots are most artfully done. They are smooth and soft knobs, lending a very intense amount of texture while remaining soft enough to avoid being overly irritating.
Overall, I would say the Flamberge is a wonderful toy for an ambitious player who loves knots and lots of texture! Consider starting with a small or medium size and working your way up to the large – all this texture adds to the challenge, making it harder to take than a simple smooth toy.
Sizing from the manufacturer for the Large Flamberge:
Usable Length: 10.3
Head Width: 2.3
Knot (Mid) Width: 3.1
Knot (Base) Width: 3.5
Head Circumference: 7.1
Knot (Mid) Circumference: 9.7
Knot (Base) Circumference: 11.1
Ready to make an order? You can get your made to order fossa-inspired dildo here, from Ambush Toys.