If you love skulls, if you find ossuaries beautiful… this might just be your perfect toy. It's moderately sized, generally phallic in shape, and gloriously textured with skulls.
This toy definitely feels like it was hand carved. It is intricate and beautiful.
The head is a single larger skull, reminiscent of the shape of a penis. The shaft is then a column of tinier skulls. The size is moderate – length similar to a human's penis, not overly thick.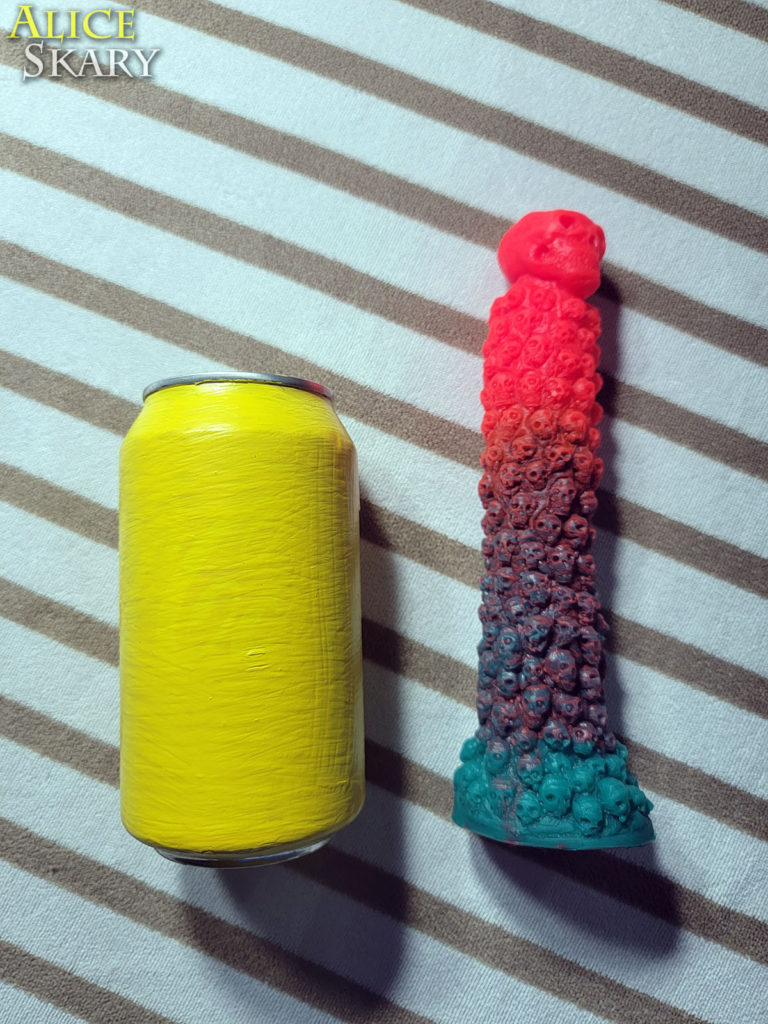 Overall, I find this toy incredibly beautiful. I have always had a dark, gothy preference for my aesthetics especially in decore and would happily display it with a few skulls or candles on my mantelpiece.
I love the color I got here – the orange-to-teal fade pops BEAUTIFULLY on camera and I am looking forward to filming with it for that reason. However, for display purposes I have a feeling that a black silicone with light grey swirls would give it a carved onyx look that would be utterly intoxicating. If you're ordering this toy and get this color, let me know – I'm desperate to see it.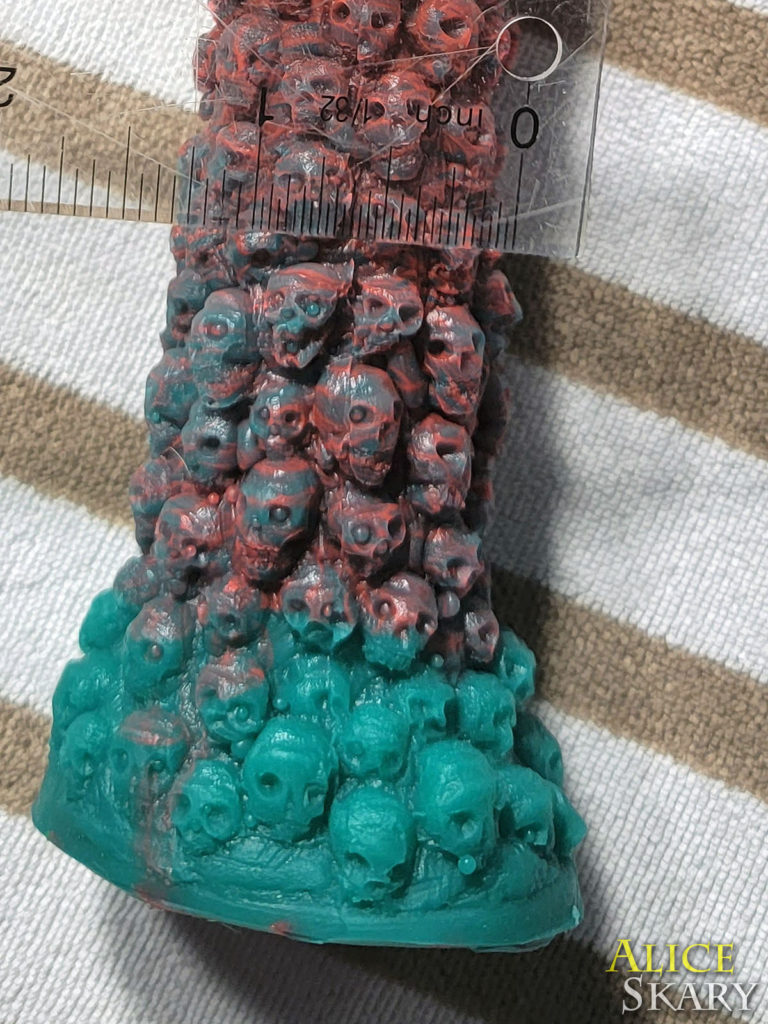 The texture is beautiful. An almost… meaty feeling. Not rough, sharp, or pokey but just giving it a warm texture. I think a soft silicone is mandatory for this piece, too firm and it may be unpleasant.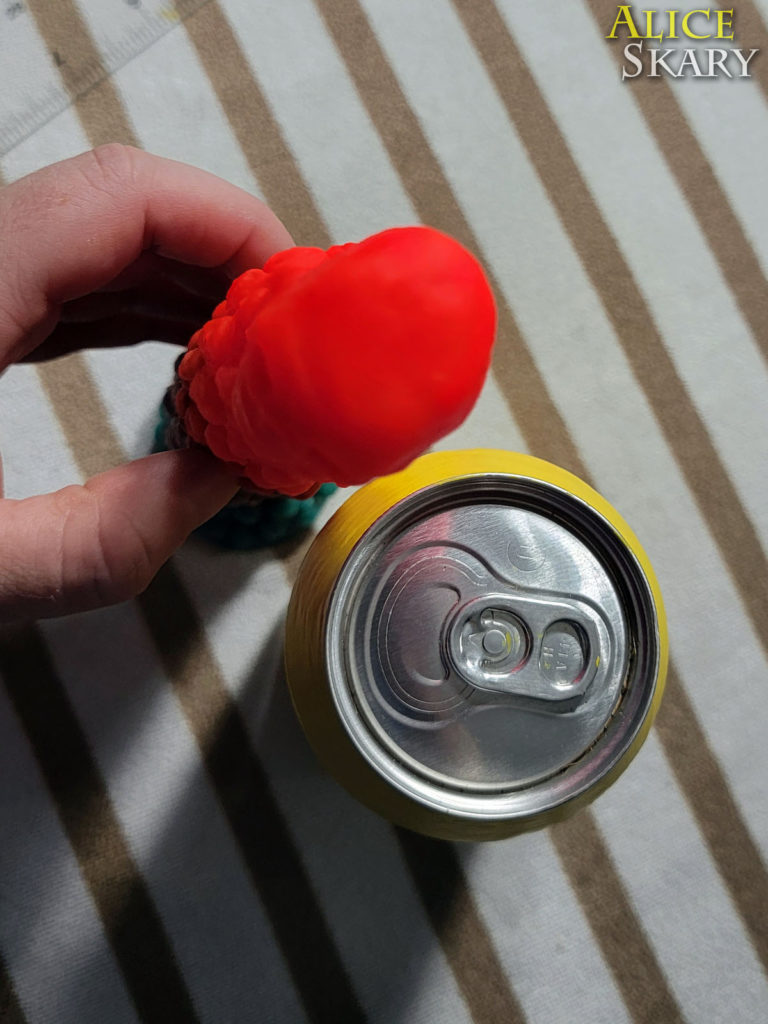 So, on to the drawback. Or rather, a small caveat.
The texture of the toy may make it less desirable for anal. It depends how squeamish you are, but the texture does make it prone to trapping a little goop.
This is a high quality silicone toy and you can boil or or use a diluted bleach solution to sterilize it, but before you do that I recommend actually mechanically removing all lubricant from the little skulls to get it physically clean. I like to use a very soft nail brush for this, dedicated for the purpose.
However, if you are squeamish and may be traumatized by a tiny fleck or two of fecal matter, I would keep this toy for vaginal & oral uses only.
You can bypass all of those concerns, however, by using this toy with a condom. So don't let the "ick" factor keep you from playing with this toy if you feel drawn to it.
Anal safe? The base is flared but at a taper, allowing it to sit properly in a well-fitted strap on harness but if you have a very well trained anal sphincter, I might not consider this enough of a "base" to prevent you from losing it – especially in a softer size. Consider placing it IN a strap on harness for solo anal play.
Love Muscle Toys is a wonderfully professional indie toy company. The creator is kind, involved in the toy creator community, and wonderfully respectful to creators & sex workers that collaborate with him.
Love Muscle Toys brings to the table a very new aesthetic. The toys are often dark or science fiction inspired without bringing an anthro/furry aspect to the table. While I enjoy a good animal inspired toy, it's nice to see some different options available.
I truly believe they are passionate about toy creation and encourage you to support this lovely indie toy company's creative endeavors with a toy order or two.
Note: At the time of this writing, Love Muscle Toys is on hiatus. I will be reaching out to them to see what is going on and report when they may be back. Their Twitter is here.
Dimensions from the manufacturer:
This toy has a 5" inch circumference and a 6.5″ usable length.