An ovipositor (egg laying dildo) designed for holes that prefer more petite sized toys!
In 2021, my lovely nonbinary video bottom Sabine Isgood and I traveled to film together for the first time. Freshly vaccinated and ready to play. To celebrate, Primal Hardwere sponsored a matching set of nonbinary pride color-themed toys for us to film with!
We decided we would each keep one after filming. This review is for the one I kept, "Squick."
Sabine kept one named "Blip." I also got to play with Blip before it went home with them, so I will speak about the contrast between the two some as well in this article because they are very similar toys. I hope to also add a review for it in due time. I adore that we each have one of these matched toys as a keepsake from our first time working together and cannot thank Primal Hardwere enough for providing these beautiful treasures.
The Squick has a usable length of five inches. The flared base adds another 3/4ths of length. This base is decorated with a number of soft spikes, hooks or teeth. These spikes add sensation if you take the toy all the way to the heath, but are gentle enough not to cause discomfort.
At the widest point, the Squick is 5¹⁄₈" in circumference. With an egg inside of the Squick, the circumference expands to just 5⁷⁄₈". It is designed to deliver very petite 1³⁄₁₆" sized gelatin eggs and for just $5 a mold can be added alongside the purchase of the toy to facilitate making these eggs.
The petite size of Squick makes it accessible for those who have smaller holes but still want to experience the sensation of oviposition. However, the generous texture along the shaft still makes it a toy for more adventurous players.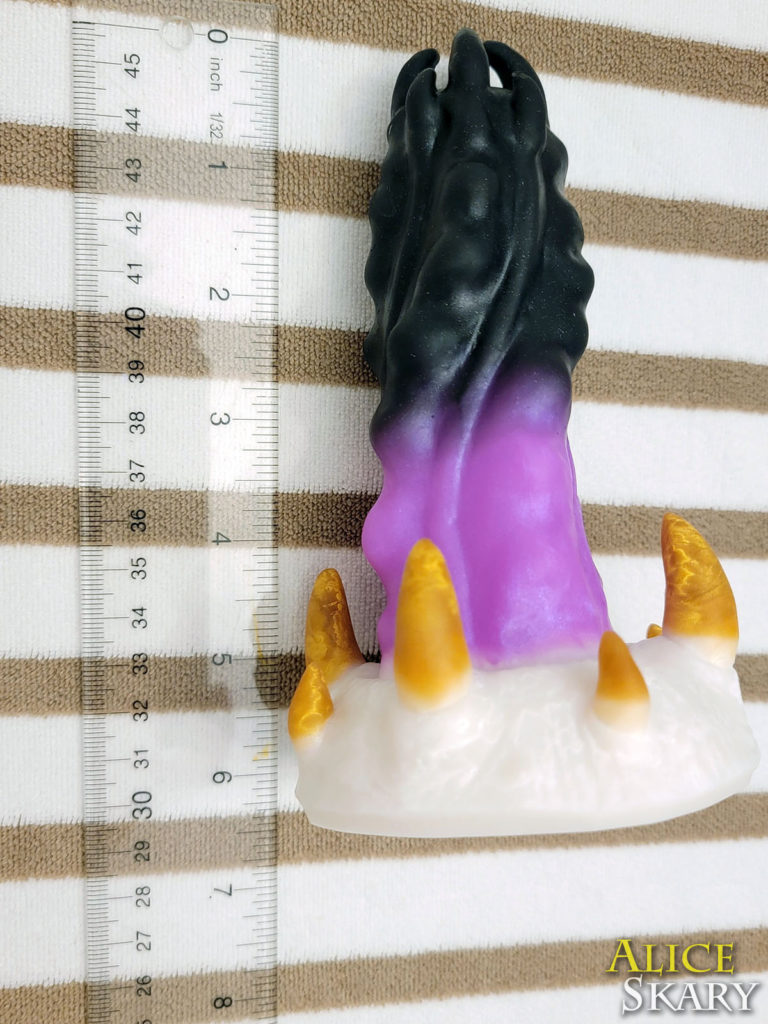 My strong feeling is that its more delicate cousin, Blip, is better suited for those who wish for a truly gentle experience.
Squick worms could only be found in the deepest, most depraved recesses of space… until now! We bring you fresh specimens from the planet XXX to give you an impregnation experience that's out of this world.

The Squick worm seeks out warmth and moisture to insert its fleshy, tube-like appendage and lay its eggs, pushing them as deep as it can to provide a suitable environment for its young.

Though it may look intimidating, the nubs and ridges prove to be quite gentle and pleasurable as it squeezes and ripples its way up in and bulges as it pushes forth its offspring.

— Primal Hardwere's lore for Blip
Squick starts at just $60, and adding additional colors (or glow — UV reactive — additive) may increase the cost by another $5-10 dollars. The egg mold, which I do highly recommend to use this toy to its full potential, will cost another $5.
Full dimensions via the manufacturer:
Total Length: 5³⁄₄"
Usable Length: 5″
Shaft Diameter (Upper): 1³⁄₈"
Shaft Circumference (Upper): 4⁵⁄₁₆"
Shaft Diameter (Lower): 1⁵⁄₈"
Shaft Circumference (Lower): 5¹⁄₈"
Shaft Diameter (With Egg): 1⁷⁄₈"
Shaft Circumference (With Egg): 5⁷⁄₈"
Internal Diameter: ¹⁄₂"
Purchase it on Primal Hardwere's website, here.
This toy has been featured in three of my videos:
Teaching Sara Storm Strap On
Trained To Be Alien Egg Incubator
Primal Hardwere Egg Layers