BS Atelier is a beautiful artisanal toy company from Spain who graced me with a care package, PRIDE themed! This luxurious rainbow phallus was too gorgeous to pass up.
The packaging was so elegant. The brown paper & stamps had an old timey look that just screamed to me, "You just got dildos from SPAIN!"
The toy itself was packaged in a sealed, ziploc-able plastic bag…
Complete with instructions on use on the back.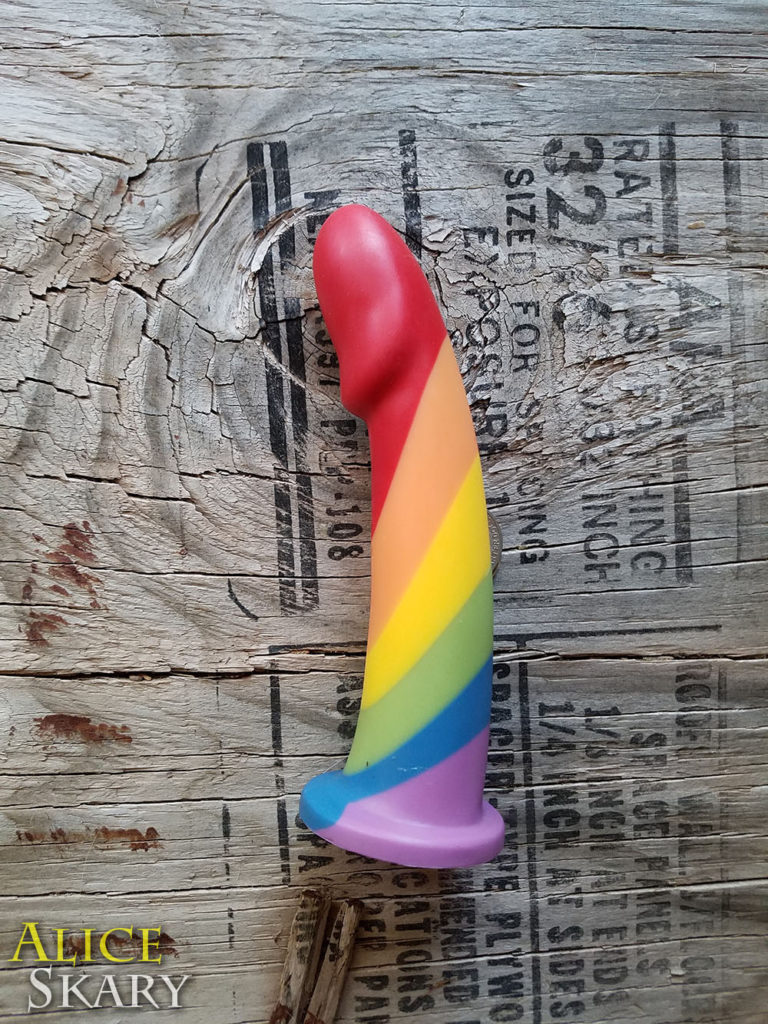 And inside… Absolutely the best rainbow dildo I've ever seen!
This is absolutely a premium silicone dildo — smooth, sleek, and bubble free. The main texture is the bump at the head, and then the shaft slightly tapers wider, ending in a slightly raised "BS" stamp near the base:
The toy sits well in a harness, with just a slight up curve so strangely reminiscent of a flesh-and-blood penis — yet so wildly surreal in coloration.
The "Alex" dildo comes in many other wild colors, all of them equally beautiful.
The head is just tapered enough to make it work well for anal play, but it works well for vaginal stimulation as well. A truly versatile and basic toy — with a beautiful colorful look!
The size is modest — just about the size of an average human penis — and the base just flared enough to sit in a harness.
A truly versatile toy — wonderful for strap on oral, as well. The length is just enough to start teasing & training a gag reflex, without being too overwhelming or impossible to deep throat.
If you are new to anal training & are looking for a toy that will give you the sensations of a "real" penis, but without a tremendous girth or a huge hump of a head to get over, this toy will definitely do the trick. It will also work for a burgeoning size queen as a warm up toy or a rough toy to really pound the gspot or pspot into submission without fear of becoming too tender or sore from a big stretch!
I look forward to reviewing more of BS Atelier's fabulous creations soon!
Find BS Atelier's website, below:
https://www.bsatelier.com/