Looking to get literally screwed? Or just to intimidate the fuck out of your bottom with a screw-shaped implement of hole-destruction? Look no further. The "steampunk" Screw You silicone dildo is here to deliver.
So what you should know is I have two versions of this toy because SplitPeaches sent me a soft, squishy variant of the toy (the silver one) after I expressed some concerns about the firmness of the rainbow.
You see, the first version of the "Screw You" I got before this company started offering multiple firmnesses, so it was in a very, very firm silicone. This made the toy a little less versatile than I wanted it to be.
Don't get me wrong, I still use the firm one! It works great, at such a large size, for literally screwing into someone's ass — by rotating it over and over again in and out. A unique hole-stretcher, for sure.
But, at this firmness, actually STROKING with the toy was just too much. The toy was too firm, aggressive, and the ridges too big in the large size. (I suspect in a smaller size, it might be just lovely in a firm hardness level!)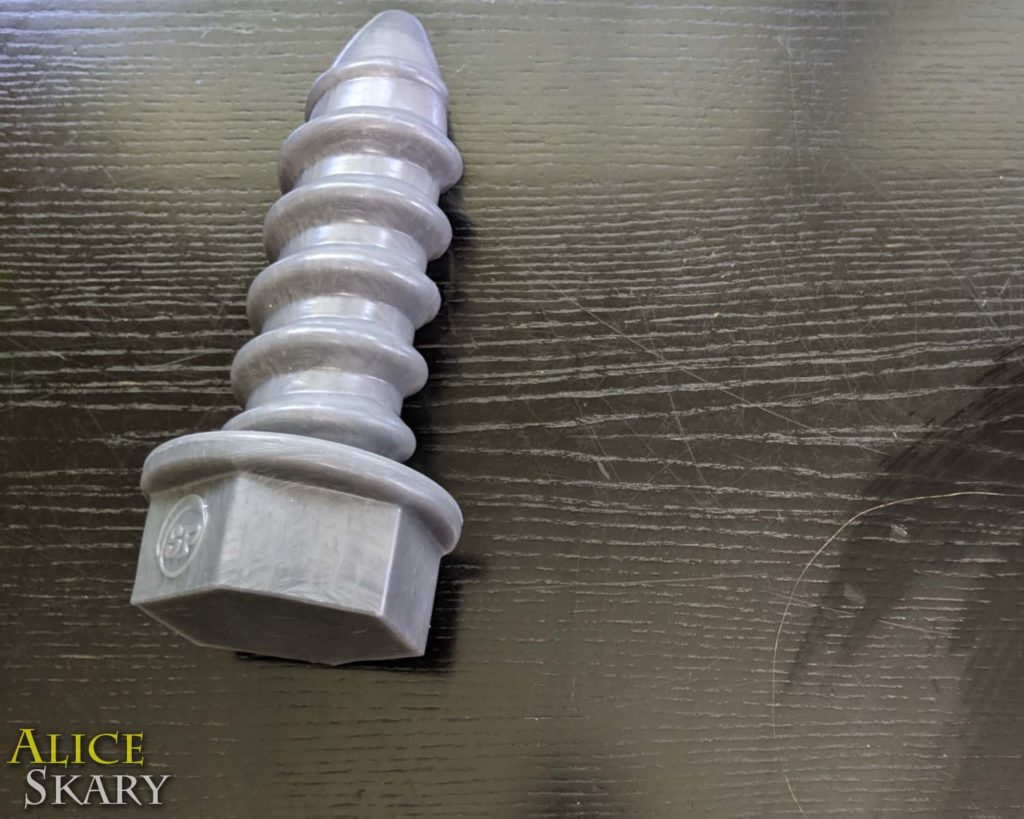 But the silver toy, in the gummy soft silicone pour? MUCH more versatile. You still have to stroke in and out slowly, carefully, but it has some give to it too!
The other great thing about this design? The tip is JUST RIGHT. Not too pointy, where it might be sharp and "poke" something inside. But tapered just enough to gain entry to a tight, willing passage.
All in all, if you are looking for a fantastic novelty toy and you are a huge fan of texture? This is a great piece for you.
I enjoy both colors very much, liking the more realistic silver color on the softer one… but the rainbow one appears to be everyone's favorite by far.
And above all, I was most impressed with the responsiveness of the company. They THANKED me for my feedback, and quickly made changes to their website to accommodate all firmness preferences! They were professional in all dialogue. And the toys themselves? Flawless, beautifully colored pours.
I can sincerely say that I'd recommend this company any time.
You can get the large "Screw You" here on SplitPeaches website.

Specs:
Shaft: 2.84″ Dia ( 9.92″ circumference) Across the threads.
Insertable length: 8.5″
Weight: 2.5 lbs
Material: 100% Platinum Cure Silicone (Do not use silicone based lubes)
Alice Skary clips this toy appeared in:

FREE PornHub video, "Minjibaby Gets Screwed!"
"He Gets Totally Screwed! Screw Thread Dildo – Huge Toys & More!"