Mr Hankey Toys' "Boss Hogg" is a serious boss of a dildo. It is realistic, incredibly detailed, and measuring at a whopping 11.80″ circumference at the widest point. This fat fleshy phallus is made out of pure body safe non-porous silicone.
I read the dimensions on the website, and knew I had to have it. I knew it would be a challenge for even my most talented bottoms — but a challenge is exactly what they crave.  Still, despite reading the dimensions on the website, I didn't grasp exactly how big this handsome fucker was until I was holding it in my hands & about to strap it into my strap on harness.
My Boss Hogg is the 75% soft firmness level, and the natural tan color.
Mr Hankey Toys provides something the premium silicone toy business has needed for a while. Large toys, but realistic. Many of the premium toy companies out there have been producing large toys — but they run the gamut from abstract to science fiction. And let's be honest, a majority of them market to the furry community with animal/anthropomorphic dildos – not something everyone is comfortable with exactly. I don't mind a furry dildo myself, but I have to say: Strapping on a huge realistic flesh-toned cock is another experience entirely. A "real" human cock.
Not only that, but I love the wide base on all of their toys — all of their designs so far feature a wide, circular base just thick enough to be stable to mount them to a strap on. Perfection.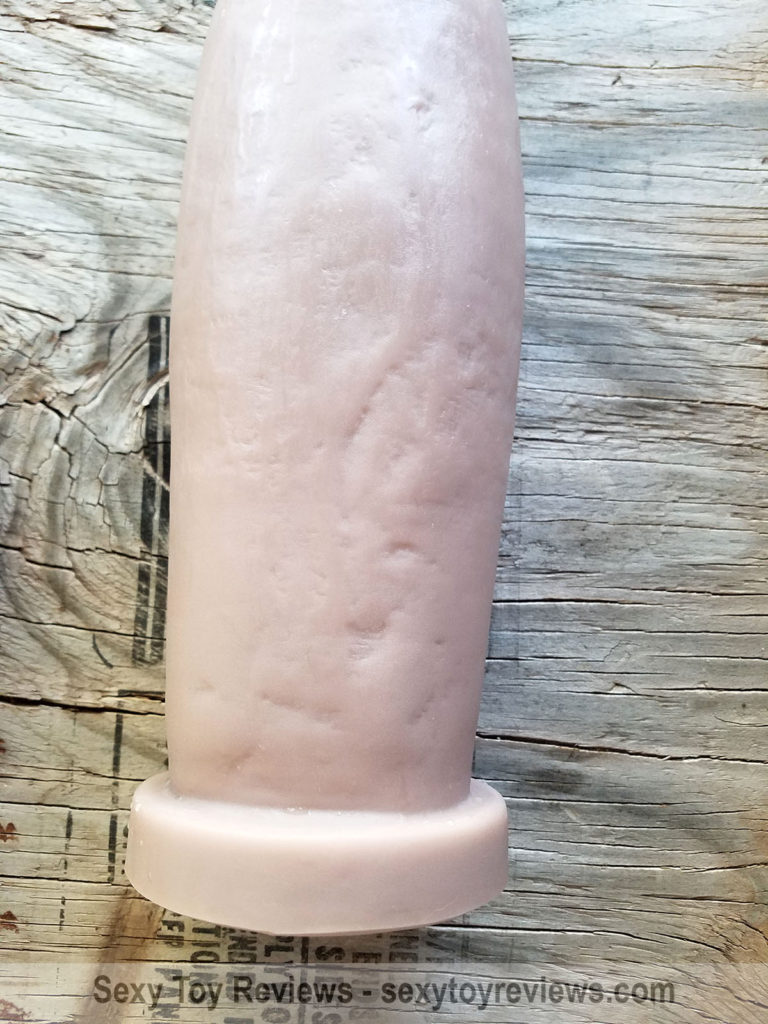 The Boss Hogg is not as veiny as many of Mr Hankey Toys' designs, yet still manages to be completely realistic. The underside has a handsomely realistic shaft, the head is artfully sculpted, and a proportional (but not functional — for aesthetics only) urethra completes the picture.
The dildo becomes thickest not quite halfway down the shaft, sloping from an intimidating yet modest head to a whopping thick shaft, that tapers gently back down near the base. It is definitely a toy that works best for a girth lover!
Mr Hankey has been incredibly generous in delivering discount codes to his shoppers. The code skary10 will take 10% off ANY purchase in the store — be careful to make sure that it is all lowercase, though.
You can find the Boss Hogg here for $159.95, available in black, natural tan (that's mine!) and deep brown, as well as two different softnesses.
The Boss Hogg has been featured in one of my fetish clips:
He Meets The Boss Hogg – 14 min
Size information from the manufacturer: 
Circumference near head: 9.00″
Circumference near center: 11.80″
Circumference near base: 10.75″
Overall length: 13.00″
Insertable length: 12.00″
Texture: Smooth/Light Texture
Strapon Ring Size: 3.00″