RodeoH has long been known for their comfortable underwear designed to hold strap on harnesses & packers. When they released a new line of more feminine, sensual panty harnesses, I was immediately drawn to the beautiful crotchless/backless strap on-holding panty. Would it live up to it's reputation for being the most comfortable strap on "harness" available?
It certainly did.
The fabric is incredibly soft, a cotton blend. It fits & feels exactly like a panty. In fact, their sizing information explains this well I think: You take your favorite pair of underwear, measure the waist band, and match it to the appropriate size of RodeoH panty!
During use, it feels sturdy and it doesn't feel like the panty is about to fall off or anything like that, but it also doesn't feel like you're wearing a harness. The straps don't dig in. The thick, soft waist band doesn't pull or tug.
One of the things that I look for in a strap on harness — if possible — is an open/backless design to allow access to expose my genitals/anus as desired during play. It is a HUGE buzz kill if I want to transition to a sexual activity involving my actual-flesh genitals — or toilet training — and have to stop to unhook my harness first.
Needless to say, this panty is perfect for that. It offers perfect access to my entire ass crack, and adequate access to my vulva: the first time I wore it, I had to wrestle with it a bit to get it to expose my entire vulva, which I blamed my quite rotund rump for! But it seems that it "broke in" a bit and sits a bit more comfortably now. Still, I suspect if you have an even curvier rump than myself, you may want to go a size up to accommodate — discuss with RodeoH before making a decision, though. Their customer service is incredibly friendly & prompt.
I love the washability of this harness, too. I don't have to worry about getting water based lubricants or sexual fluids on it: I can just wash it afterward! I've chosen to use Ovacion, a personal favorite laundry detergent which I highly recommend for all lingerie and active wear — this detergent removes skin oils to protect elastic fabric and preserve it longer, and restores the "snap" to old athletic wear & lingerie that has gotten fatigued elastics over time. After washing it, the fabric became even softer. This piece is recommended for handwashing & laying flat or hang to dry.
I was concerned at first about the fact that you couldn't trade out rings on this panty for different styles of panty, however, RodeoH has an amazing trick around that.
The built in ring is a 1.75 inch o-ring, however, if you want to use a smaller toy, they have a wonderful little add-on that can accommodate.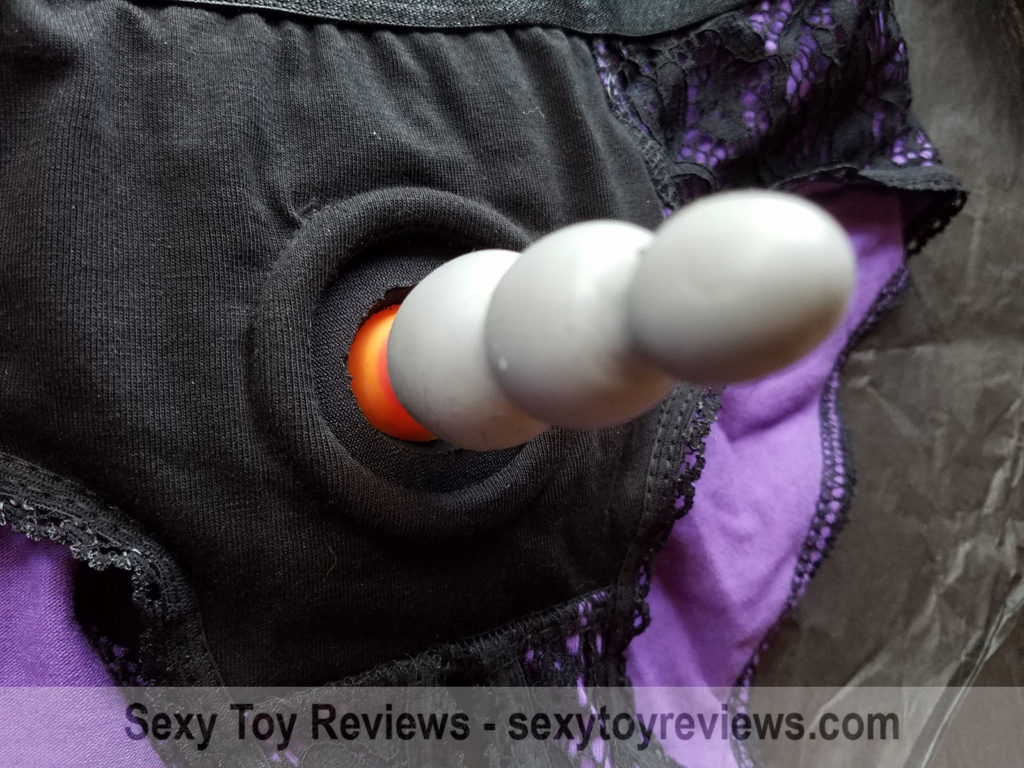 The neoprene stabilizer holds in a toy from 1 inch to 1.5 inch diameter. It also doubles can double as padding: You can slip it in behind a toy to protect your pelvis for more vigorous thrusting.
Overall, I think this panty harness would be a great option for anyone who wants to add a softer, more feminine visual appearance to their toy play. I'm going to be enjoying it for many years to come.
You can purchase yours from RodeoH's shop for $59.99 in either black or purple & black.
You can see a tease video of me wearing this harness for FREE on my Pornhub page.