Finally, a stretcher that only anal size queens could dream about.
The "Intense"
is an abstract shape perfect for teasing deep past the "second sphincter" or so-called rectal sling, also known as the "u-bend." This sphincter is the key to
depth play.
It requires to be slowly and gently trained to relax and straighten out to allow penetration past the rectum into the lower intestines, allowing a size lover to take an entire forearm or a very long dildo.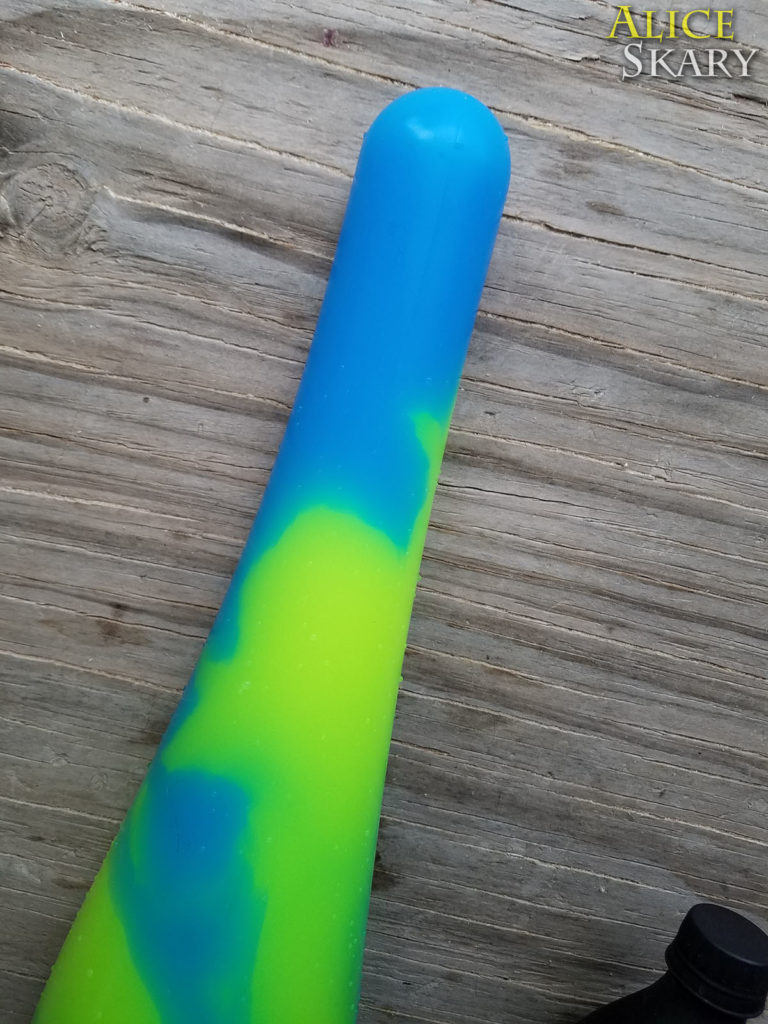 It starts as a size that is not monstrous but still too girthy for any beginner, a gentle taper at the tip, allowing one to tease and tickle open the anus and then finally tease & tickle open that second sphincter.
It quickly escalates to a vast thickness, allowing a size-lover to experience astounding fullness sensations. As you can see, it is thicker than my forearm!
And yet, the taper does remain gently even as it burgeons out to such intimidating girth. In many ways, this toy makes me think of the shape of a bowling pin.  But it also makes me think of my own forearm — the moment I opened the package I thought of my forearm, in fact.
I think this would be a great trainer for elbow-deep anal fisting, for example — those who don't have a fisting partner on hand to provide the first but want to stay ready could use this toy to keep themselves limber and almost ready for the sensation.
It worked well for my play partners as a way to prepare for larger, girthier toys.
I also have nothing but good things to say about the texture and the color. There is a faint seam visible on the toy, so faint it hardly shows up in the photos I took — but it is not irritating or bothersome. The colors are phenomenal and the texture is buttery-slick-shiny, perfect for a non-irritating stretch.
Another potential perk is the non-genital appearance. While I, myself, love playing with a strap on cock, many people prefer to play with a toy that is nondescript or abstract as this one is, so it's wonderful to fill that market.
And finally, if you were wondering? Why yes the safety-flared base IS perfect for strap on play! I'm not sure that the shape is as good for strap on play — it's a wonderful warm up for getting a bigger toy inside, but not as satisfying for stroking in and out. However, it does the trick adequately and stays in the harness, and that could make a way to stretch a partner slowly hands free — leaving your hands free to caress, massage, stimulate, distract.
The material is hygienic silicone and non-porous, and I found it exceptionally easy to clean due to it's lack of texture.
If you are on a budget and looking for a single toy that will enable both depth AND girth training to commence, this would be it.